Programme Structure
The PlantHealth Master Programme is scheduled over two academic years and the courses take place in at least two different countries.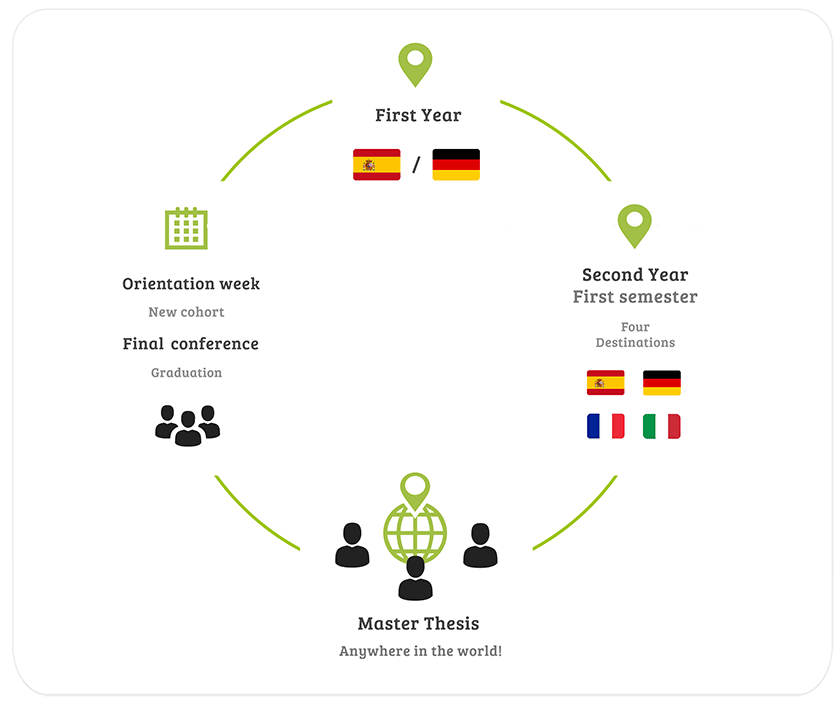 First master year (M1)
The M1 phase offers common education to deliver the same basis of knowledge to all the students and consists of compulsory modules on fundamental aspects in: crop sciences, crop protection, population biology, molecular biology and statistics.
In the first year, students must select between Universitat Politècnica de València (Spain) or University of Göttingen (Germany)
All the M1 courses are taught in English.
Second master year (m2)
In the M2, students will have the chance to specialise in particular topics of their interest to get a deeper knowledge in well-defined fields of integrated pest management in different agro-ecosystems across diverse climatic zones
The last semester will be devoted to the Master thesis.
Fields of specialisation of each M2 itinerary:
| Universities | Specialization |
| --- | --- |
| French Universities (Montpellier SupAgro / Agrocampus Ouest / AgroParis Tech) | Tropical horticulture and temperate vegetable crops |
| University of Göttingen | Temperate crops, arable crops and crops for energy |
| Universitat Politècnica de València | Mediterranean crops in orchards and greenhouses |
| University of Padova | temperate fruit crops, ornamental plants and landscape |
In the second year, students will choose a hosting University from the PlantHealth Consortium which necessarily must be located in a different country from that of the M1 (see mobility scheme)
M2 courses are taught in English at all Partner universities, except at the French universities, where the language of instruction is French.
All students will receive language courses to promote their academic success and facilitate their social integration.